About Us
A message from the Award winning Chemist Shashi Gossain:
Hello, my name is Shashi Gossain, a Member of the Royal Pharmaceutical Society of Great Britain and of The Society of Cosmetic Scientists.
I have over 26 years experience in the Pharmaceutical, skincare and beauty business. I own a 'One Stop Health and Beauty Clinic', PharmaClinix, in Kensington, London, and have written several books, including the best selling beauty book, "The Ultimate Anti-Ageing Handbook", which is now also available as an e-book.
I write regular columns for top health and beauty magazines, including India Link International.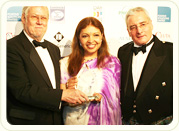 I hope you enjoy using my products as much as I do. After seeing such great success with our Lightenex® cream, we decided we needed to develop our ideas and create a product which is particularly designed for those with a darker pigmentation. We produced Lightenex® Plus in order to meet the needs of customers with black skin and those who wished to lighten very dark and particularly resistant dark marks. After rigorous testing, we found it to be our most powerful and effective skin lightening cream yet, making it perfect for black or very dark skin.


Clinically Tested, Licensed & Produced in EU.